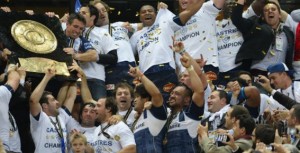 Castres returned to the Brennus Shield on Saturday, 20 years after its last coronation. Opposed to European champion, RC Toulon, CO beat the odds in a final Top 14 that broke the records.
There were 5.7 million viewers in total audience to take on France 2 and Canal + to watch the victory of Castres
Olympic (14-19) at the expense of Toulon, a record for a Top 14 final. The attendance record was also broken.
80,033 people were at the Stadium of France to watch the final which saw the South African half-breed, Rory Kockott (author of one trial) and his teammates destroy the hope of the doubling of the teammates of Jonny Wilkinson.