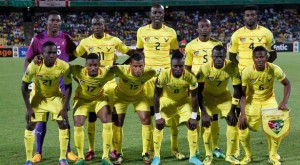 It is ultimately on Wednesday, June 5 that will be played the friendly match between Equatorial Guinea and Togo. A meeting serving as a preparation for the 2014 World Cup qualifying for both countries and originally scheduled on today. This is what has just announced the communication service FTF (Togolese Football Federation). "We have been informed by the Equatorial Guineans of the change in the programming of this friendly match before we left and it was a mutual agreement that we accepted to honor our commitment despite the sudden change at the last minute," said Améyi Gabriel, president of the FTF. Togo prepares the receipt of Cameroon on June 9 in Lomé, while Nzalang moves to confront Praia in Cape Verde.
The Hawks have slept at the airport
Main reason for this postponing, the difficulties again faced by the Togolese team at the airport in Malabo. "The Togolese arrived in Malabo at 0:30 and spent the night in the VIP lounge of the airport of Malabo for the correspondence planned between Malabo and Bata should land two hours later took four hours to land" we are told. The Hawks finally arrived this morning in Bata where the meeting will now take place tomorrow (15H GMT). A training session is scheduled tonight.
A group of 18 players are taking part in this meeting.