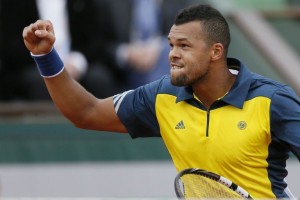 Jo-Wilfried Tsonga did it. The French, seeded No. 6 of the tournament at Roland Garros, reached the semifinals of the international courts of France. The world No. 8 can now get a clear idea about his level. In the quarterfinals, he defeated the World No. 3, Roger Federer in three sets, 7/5, 6/3, 6/3, after 1 hour 50 minutes on the Central.
But the Franco-Congolese had a bad start in the fourth quarter in a Grand Slam. After two shutouts to begin with, he lost his service [2-3], but again the gap 3-4 to pocket the first set after four set points and 39 minutes. In the second set, he took the first service of the Swiss and kept until the end of the round. A little groggy from the strength of the French No. 1, the seeded N° 2 lost his service early in the third set before restoring parity. Tsonga break again with 3 everywhere [4-3], and then takes one last time Federer's service to win three sets to zero.
Jo-Wilfried Tsonga has not lost a set at Porte d'Auteuil. This is the first time a Frenchman qualified for the semi-finals at Roland Garros since Gael Monfils in 2008. He will play in the semifinals against David Ferrer, No. 5 in the world, the logical winner of Tommy Robredo with 6/2, 6/1, 6/1.