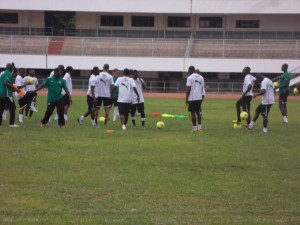 Under the leadership of coach Didier Six, 18 Hawks were trained this Monday in the stadium of Kégué in preparation for the friendly match that opposes them this Tuesday in Malabo to Equatorial Guinea.
Of the 23 names released by the Federation last week, 17 were present. Faced with many packages that are on the horizon, Backer Aloenouvor player of Hammam Sousse in Tunisia, was recalled in the group.
Togo will be without Emmanuel Adebayor, Kossi Agassa, Floyd and Jonathan Ayité, Serge Gakpé and Alaixys Romao in Malabo. While the first four are doubtful for the month of June, Gakpé and Romao should not return to Lome until Wednesday.
The return of Alain Harpe
At the training session of the day, an old friend resurfaced. Alain Harpe who gave up when they return from the 2013 Afcon was present alongside Six and Tchakala Tchanilé. Difficult for us to know on what basis the French technician makes his return among the Hawks.
The 18 Hawks to Malabo
Atsu Mawugbé
Baba Tchagouni
Kokou Donu
Dare Nibombé
Serge Akakpo
Sadat Ouro-Akoriko
Djen Dakonam
Gafar Mamah
Vincent Bossou
komlan Amewou
Kodjo Amétépé
Moustapha Salifou
Sapol Mani
Dove wome
Lalawele Atakora
Kalen Damessi
Backer Aloenouvor
Fessou Placca