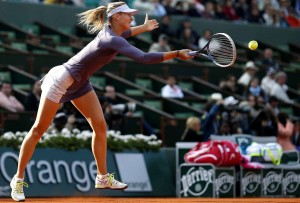 As Serena, she had not lost any set before the quarters. And like her predecessor in the WTA rankings, Maria Sharapova struggled in three sets to reach the semi-finals of Roland Garros. The World No. 2 beat 2 sets to 1, Jelena Jankovic.
Yet it is the Serbian, seeded No. 18 who entered better in this quarter-final played at the Central. She wins the first round in inflicting 6/0 to the defending champion. After this slap in the first set, the Russian takes of input the service of Jelena and made again in the fourth game [4-1]. Led 5-1, the 18th player in WTA got back to 5-4 before conceding set 6/4. Both players are mistresses of their services until the seventh game. Maria Sharapova break right now and confirms the break [5-3] before taking the last service of Jelena Jankovic to validate her accession into the last four after 1h 58 game, 0/6, 6/4, 6/3.
In the semifinals, she will face Victoria Azarenka. The Belarusian, World No. 3, dominated the seeded No. 12 Maria Kirilenko in straight sets 7/6 [7-3], 6/2.