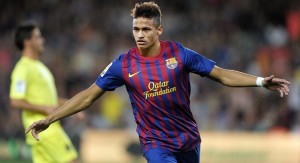 Marking Barça with his footprint, this is the objective of the new recruit to the champion club of Spain. Neymar, formalized on Monday shows up already the site of the Catalans:
"I hope to mark Barca with my footprint," said Neymar in an interview to the website for his new club.
It is clear that the Brazilian nugget comes with the intention of doing better than his compatriots who have worn the jersey of the club. However, he does not go jumping the gun by comparing himself to Ronaldinho, Golden Ball 2005
"No, Ronaldinho is unparalleled. He has marked the history of Barcelona, that of Brazilian team and even continues to write the history. In my case, I have just started writing my story, "judged the striker at the peak of Iroquois reported the FIFA website.
The now ex-striker of Santos always keeps in remembrance the (4-0) slap received during the World Cup final clubs in 2011, won by Barça:
"What impressed me the most that day; it is the simplicity of Barca's game. The fact that it was reaching for a goal and at the same time the beauty of its game. that day, Barca had left everyone speechless. Not only the Catalan supporters and journalists, but also we, the players of Santos" Neymar remembered.