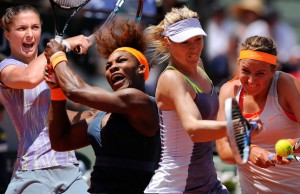 The semi-finals of Roland Garros tournament starts today. Before the clash between Nadal and Djokovic, let's attend on Friday women's clash.
We could not ask for more with four of the top five on the WTA circuit. Winner of the Australian Open, Victoria Azarenka (No.3) will play her first semifinal at Porte d'Auteuil after the failures of 2009 and 2011. The Belarusian will face Maria Sharapova (No.2) titleholder. The Russian, who conceded her first set in the tournament during his quarter-final will remain solid, against an opponent she knows very well to hope an access to the final again " we played so often that there are no secrets between us", she said after her win against Jelena Jankovic. It is a semi-final and I cannot wait to play it". Sharapova and Azarenka have crossed 12 times with the benefit of the World No. 3 leading 7 wins against 5. But the World No. 2 won their two previous meetings on the clay.
After the Azarenka-Sharapova act 13, the Central will follow with interest the return of Serena ten years after her last appearance. The World No. 1 is, for this purpose, struggling with Sara Errani (No.5). The Italian, the fifth player in the world has never managed to beat the American in five meetings. Finalist last year, Sara Errani tried to upset the odds by focusing on the use of different angles of the court to compensate for her lack of power. The task will not be easy for her against one of the best player of the circuit. Serena has a series of 29 consecutive victories.