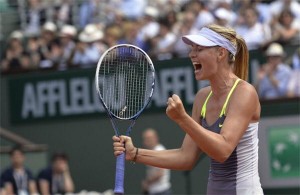 It took her the fifth match point to defeat Victoria Azarenka. Maria Sharapova qualified for the final of the women's singles at Roland Garros after a battle won in 3 rounds and 2 hours 42.
But the semi-final started well for the defending champion who pockets the first set 6/1. The World No. 3 Victoria Azarenka, led the charge in the next game she won in turn 6/2.
The temporarily suspended due to rain, the game resumes with Sharapova, No. 2 WTA, who made the best start in the last race. She takes the service of Belarus with 1-1, but cannot confirm her break before breaking again to lead 3-2 and then 5-2.
The Russian will have troubles to conclude the meeting. Azarenka back to 5-4 before giving an ace on the fifth match point.
Maria Sharapova needed 2 set or 1, 6/1, 2/6, 6/4 and defended her title at Porte d'Auteuil. Will cross the racket against the winner of the other semifinal actually pitting Serena Williams to Sara Errani.