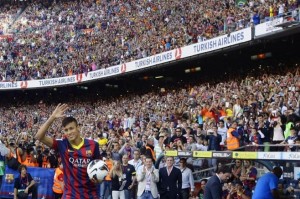 Neymar is the new recruit of FC Barcelona. During his presentation last Monday, the Brazilian has attracted significant human tide. As Africa Top Sports had already projected a record, Neymar is actually stronger than Zlatan.
His presentation was made pump at Camp Nou and has toured the world. More than 56,000 spectators attended the event to see the teammate of Lionel Messi in attack with the new club jersey. He broke the record held by Zlatan Ibrahimovic: 50,000 people.
Best, this operation was a success on the web with his website which rose 1.6 million visits in daily and a peak of 180 000 visits in the presence of Neymar on the lawn. Impressive!
This presentation was made live on the site and raised the percentage of 151 from the previous on Monday. Barça won its marketing plan.