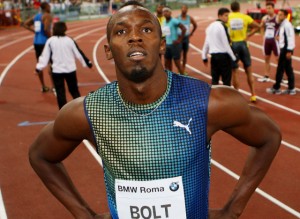 Big disappointment for the "Flash" in Rome on Thursday. For his return to Europe, Usain Bolt has been dominated in the 100 m at the meeting spot for Rome 2013 Diamond League. The Olympic champion was beaten by the rocket Justin Gatlin in 9'94. The Jamaican came a hundredth later.
Bolt loses his eighth race in five years. But nothing to alarm the favorite of the track. "I was not there, it was not me. It was ridiculous: a perfect start and then I pickax. I have to work hard, I think I need time to get everything back, "he said after the race.
Behind Gatlin and Bolt, the French Jimmy Vicaut arrived in the third place matching his personal best (10 "02) and gathering the minima for the World in Moscow.