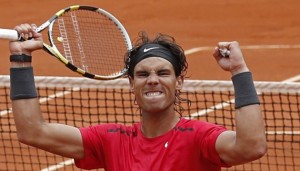 After a tough and very physical game, the Spaniard Rafael Nadal qualified for his eighth final at Roland Garros in 9 participations. The Mallorcan dominated the Serbian Novak Djokovic in five sets (6-4, 3-6, 6-1, 6-7, 9-7).
Nadal began very well his game and removes the first round in 45 minutes. Djokovic imitates almost in the second. The third is more expedient for the Spanish who inflicted a 6-1 to his opponent. Djokovic dominated in the fourth set after the tiebreak 7-6.
In the deciding set, Djokovic has a break in advance and has the benefit of his service, but misses the ticked by touching the net on a shot. Nadal took the opportunity to pick and equalize. Before taking advantage. The mano-a-mano continues until the Serbian concatenates few mistakes. Nadal did not ask for better. Last game won 9-7.
The other semifinal opposed the French Jo-Wilfried Tsonga to the Spaniard David Ferrer.