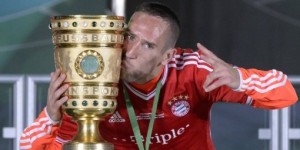 This is a tribute payed by the players in the Bundesliga to Franck Ribery.
Away from the team-type of the Bundesliga, the midfielder of Bayern Munich was voted player of the year.
The French international collects 29% of the votes of the vote held by the biweekly Kicker. A vote of 200 players took part in the Bundesliga.
Author of 10 goals and 15 assists in the league, Kaizer Franck has won everything this season with his club (Championship of Germany, German Cup and Champions League). A great season capped by the extension of his contract.
The former Marseille, according to his coach Jupp Heynckes, is among the favorites for the title of Golden Ball 2013.