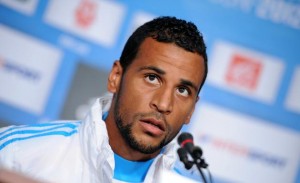 Returning to France on Monday following the decision of the FIFA to relocate the meeting Libya-Togo on June 14 in Tripoli and not in Benghazi, Alaixys Romao took his time to explain his decision on the social network Twitter.
The Togolese midfielder of Marseille Does not Understand the stubbornness of International Authorities to maintain the game in Libya, while the socio-political status is not reassuring.
"Tripoli or Benghazi, where is the difference? I will change my mind if FIFA Officials have decided to accompany us," he tweeted, before carrying Jonathan Ayité in his luggage.
Finally, it is for the Togolese wish peace to the North African country. "Now, to see soccer returning to the common sense, my main wish is That peace reign in Libya". Since the departure of the lathing, it is the psychosis in Hawks' nest. Many issues about a possible participation in the meeting or not.
Togo faces Libya on Friday in the 2014 World Cup qualifying.