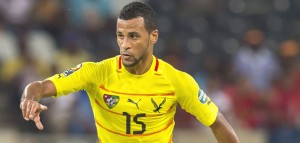 He is the first to have expressed concerns to play in Benghazi or purely in Libya due the unstable socio-political situation. Alaixys Romao has left the grouping of the Hawks of Togo on Monday and will not attend the match of the 5th day of the World Cup qualifying 2014.
This despite the fact that a few hours earlier, FIFA eventually agreed to relocate the meeting in Tripoli, the capital. Obviously, the place was not at all reassured for the midfielder of Marseille land that has preferred to give up. In his luggage, he left with the striker Jonathan Ayité. Holder on the front of the attack against Cameroon on Sunday.
The joy of the victory against the Indomitable Lions has left room for fear and questioning since Sunday night. Now, we wonder who will be the next to go. It could well be Serge Gakpé that remained very speechless on the issue of play in Tripoli. "They can always say that the Congo played in Tripoli and it went well. But given the drama of 2010, we do not want to take any risk. I hope that FIFA and CAF will find a solution so that we can play this game in a healthy climate, "he told RFI. The French coach Didier Six has also cast doubt on his participation and may not be the only one in his staff (his assistant Alain Happe).
It is in this atmosphere that the Hawks took over the training sessions on Wednesday in the preparation for the match against the Knights of the Mediterranean.