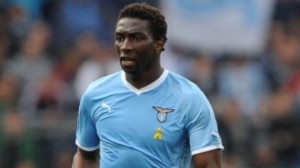 Modibo Diakite does not change only the city. Sounded in Genoa, the central defender, out of contract with Lazio, leaves the Serie A. The former player of Pescara will discover another championship after eight years in the Italian championship.
The Franco-Malian committed with Sunderland (Premier League).
According to the announcement of the Blacks Cats, Diakite (26) will join the team in July, as the French Valentin Roberge (central defender) from Maritimo Funchal. The amount and duration of the contract have not yet been revealed.