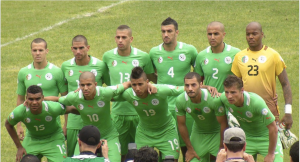 Algeria has made a big step towards Rio for the Cup in 2014. After the victory over the Squirrels of Benin (1-3) in Porto-Novo, the Desert Foxes are on a roll for the qualification for the World Cup.
Next Sunday, the Greens will travel to Kigali to face Rwanda. For Algeria, the goal is obviously a victory against the Amavubi. It is the second biggest challenge of the Greens in a week. With this victory in Benin, Algeria now occupies the first place in Group H with nine points with two units ahead of its former co-leader, Mali.
For the President of the Algerian Football Federation (FAF), a victory in Kigali will allow the Fennec to play the last day against the Eagles of Mali in serenity:
"I congratulate our players for this victory that allows us to keep our first place ranking. This success also shows that we have the ability to win away, while many people do not give much imagine it. This success, in addition with an interesting score, motivates us to bind a second win away on the grounds of Rwanda (next Sunday). If this happens, we will discuss the last game at home against Mali with great confidence. That is to say, we are not yet qualified for the World Cup, because even if we pass this stage of the course, we will have to play a decisive final round. We are not there yet, and the most important is to win the next match in Kigali. About bonuses to players, I must say that this is settled long ago. I would also like to acknowledge the behavior of the Beninese supporters who were very fair play, "said Mohamed Raouraoua, the president of the FAF.