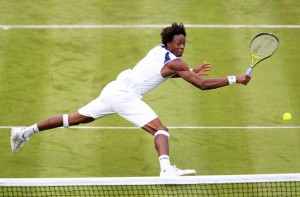 We will not see Monfils in the third Grand Slam of the season. While he had requested an invitation for the Wimbledon tournament, Gael Monfils renounced to play during the London fortnight. "I withdrew my application for wild card because I have a small personal problem to be addressed in the coming week," announced the 67th player in the world after his victory in straight sets in the second round of the tournament of Halle against Czech Jan Hernych.
"I have to manage contingency during the first week of Wimbledon," he said, without detailing the nature of the problem "necessarily bad if I do not play at Wimbledon and I feel good," says tennistemple.
Winner of the tournament among the juniors (2004), the last participation of Gaël Monflis (26 years) to the Grand Slam of Wimbledon back in 2011 (3rd round, beaten by the Polish Łukasz Kubot). The West Indians had to give up the 2012 edition because of his knee problem.