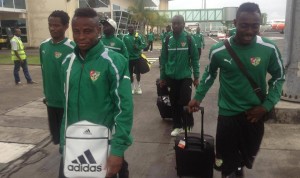 Leave or not leave? The selection of Togo will finally leave Lomé in 13 hours GMT in destination for Libya, specifically Tripoli where it will face the Knights of the Mediterranean as part of 5th day of the 2014 Brazil World Cup.
The band had to leave Didier Six Lomé since Wednesday. But the problem of premiums after the match in Equatorial Guinea and that of the inherent to insecurity n Libya and Romao and Jo Ayité who leaved the selection have nailed the Hawks in Togo.
However, they had the opportunity to train on Wednesday before this departure aboard a special company.
Revived in the group I with 4 points after the victory against Cameroon (2-0) in Lomé following the fourth day, the Hawks of Togo have lofty ambitions for the playoffs third round of the competition. In the absence of Emmanuel Adebayor Sheyi Captain Serge Akakpo and his teammates intend to win the match in order to play the final of the group in Lomé against DR Congo in September during the last day. The match is scheduled on this Friday.