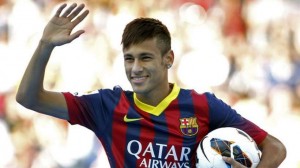 Real idol in his country, Neymar had to leave Brazil and Santos FC to sign with FC Barcelona. All observers agree that the young striker is the future of the Brazilian football.
Some people refer to him as the "new Pele". Like Neymar, Pele had also evolved Santos FC. The former glory of the Selecao even regrets the departure of the rough diamond freshly extracted from the mine to the talents of the Brazilian football.
"Neymar is undoubtedly the best player in Brazil. He will now get the experience of playing in Barcelona, which will be wonderful for him. Neymar should join this club. He deserves to play in the best team in the world; next to the best player in the world, Messi. I told him that the English football was not for him, because the style of play does not suit him. I have recommended him to go to Spain. He is a very good player with great quality and a great future … I have no doubt. For me, Neymar is a genius, "said Pele in comments reported by Sport.