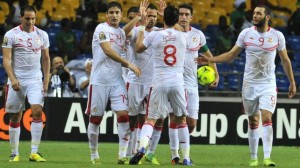 We told you yesterday. Tunisia without playing was almost certain to play the third round of 2014World Cup qualifying. This thanks to the victory of Cape Verde 2-1 over Sierra Leoné.
So this Sunday, the Carthage Eagles have formalized their ticket against Equatorial Guinea (1-1). Not without difficulty. Led by a penalty of Juvenal from the 34th minute, it took until the hour mark to see the men of Nabil Maaloul restore parity. It is Osama Darragi who has also scored a penalty for his team.
Tunisia joins Côte d'Ivoire, Egypt and Ethiopia already qualified for the final round. In the group B, Tunisia has 11 points, followed by Cape Verde with 6 points. Sierra Leone and the Nzalang have 5 points.