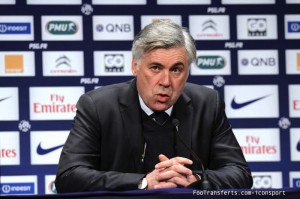 The atmosphere is always very tense between the two clubs!
Carlo Ancelotti began to find the time very long, because he wants to leave PSG and start working on the recruitment of Real who started with Zidane.
The two clubs would agree. A close friend of the case confirms: "There is a gentlemen's agreement between Real Madrid and PSG to announce one by one who will be its new coach. And if possible the French would do it first. "
PSG should receive 7.5 million Euros from Spain, that to say the amount of the last year of the contract of Ancelotti in Paris.