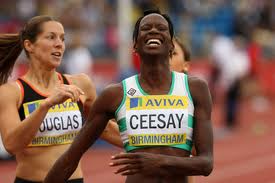 The female Gambian sprinter Nusrat Ceesay is back! She occupied the second position during a race in Spain.
This is the former United Kingdom who turned Gambian sprinter's first silver medal of the year in  14:51 in the 100 m hurdles.
The 31-year-old crossed the line just behind Katie Skelding who finished on a timing of 13.97.
Ceesay posted a picture on her twitter account with her flower vast prize on her left and the medal on her right with the following message , "GAMBIAN NATIONAL RECORD… .A good race in Spain for me, 2nd in the 100m hurdles.So much more to come! My 1st trophy of 2013″
The other competitor of Nesrat are: Sara Bird who competed over both 1500m and 3000m and finished fifth  in the former and third in the latter.
Ceesay last competed for Gambia in the All Africa Games in Maputo where she endured an abysmal performance along with her other Gambian national track team mates.