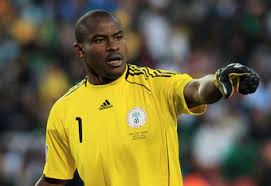 A 6-1 win against the amateurs from Oceania looked jerky in patches as the Nigeria strikers wasted a lot of opportunities, and Enyeama said jetlag took its toll "It was obvious that we were struggling," Vincent Enyeama told our fellows from KickOffNigeria.com.
"There was fatigue in the brain and all parts of the body."
"But we are happy we scrapped through and we are happy it's Tahiti we had first so we thank God for getting them first in the draw.
"We don't really care about the goals. What mattered was getting the three points."
The goalkeeper was even more disappointed to have conceded a goal to a side packed chock full of amateurs, but refused to blame anyone.
"I am always disappointed at conceding goals, but you cannot blame anybody because this game was not a normal game.
"People coming off a very long, stressful journey then playing in such a short time. But we are happy to get this behind us.
"Now we need to go back, take enough rest, get massages and prepare for the next game," he added.