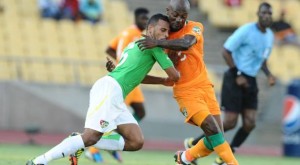 At the last bottom of group I with 4 points, Togo could lose the three points snatched at the meeting against Cameroon in the fourth round of qualifying for the World Cup Brazil 2014.
FIFA has launched an investigation procedure against three countries including Togo on ineligibility, or the use of a suspended player and / or a binational improperly naturalized player.
For this survey, the Marseille midfielder, Alaixys Romao (in picture with Didier Zokora during the Afcon 2013 in South Africa) is concerned. The former player of Grenoble has been warned against Libya in Lome during the first day in June 2012 against Cameroon in Yaounde during the third day of competition. The Togolese should not take part in the match Togo-Cameroon, which resulted in the victory (2-0) against Cameroon on June 9 in Lome.
If warranted, Togo could get into the bottom of the classification of group I losing 3 points. A good status for Cameroon which would be in a good position before receiving Libya on September 6 on behalf of the last day.