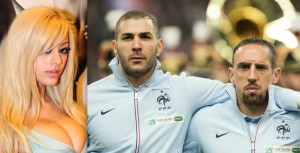 Three years after the scandal, the trial of the "case Zahia" opens on Tuesday.
Not long before the 2010 World Cup, Franck Ribery and Karim Benzema were accused of having called for the services of the former call girl when she was a minor. The trial, which opens today at the Paris Criminal Court should be held without the presence of the actors. If Karim Benzema casts doubt, Zahia and Ribery have announced that they will not go to the court.
Accused of having had priced sex with Zahia in 2009 (minor at the time), the player of Bayern Munich had argued he had not known she was a minor. A line of defense that the best player in the Bundesliga continues. As for the Real Madrid striker, he denies having had sex with the call girl in 2008.
Taking advantage of the media coverage of this case, the beautiful blonde has turned into another business. She created her lingerie and is about to open a " pâtisserie-boudoir éphémère." In an interview with TF1 on Sunday, they said they "did not know at all," her actual age.
Benzema and Ribery risk three years in prison and a fine of € 45,000 if they are declared guilty.