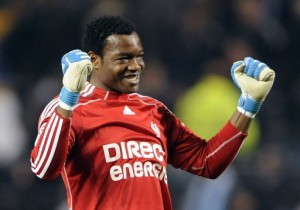 It is no for one and yes to the other! The Franco-Congolese Steve Mandanda will not go to Monaco, but it is OK to the Cameroonian Nicolas Nkoulo. This is what a leader of Monaco released through microphone of our colleagues from Provence.
"We've never been interested in Steve Mandanda, said an officer of the AS Monaco in the columns of Provence on Monday. We leave with (Danijel) Subasic in the goals, a choice that President Dmitry Rybobovlev validated. Besides, we never sought a guardian. "
The contract of Steve Mandanda expires at the end of June 2016 and Marseille does not want to separate from its goal.
Nkoulou yes, but…
Monaco has however learned about the Cameroonian Nicolas Nkoulou. If the transfer were to occur, the Lion will therefore get back on the rock that he had left while Monaco was relegated to Ligue 2. His return will be difficult for the president of the OM who does not intend to sell the defender club deemed a direct competitor. Behind the scenes, the destination of Nkoulou is in Germany specifically to Bayern Munich.