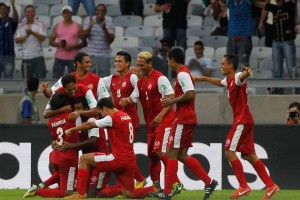 Surprise winner of the Oceania Nations Cup, here is Tahiti and its amateur's guests at the big table in the Confederations Cup in Brazil.
The Toa Aito (iron warriors, Tahitian) took a beating for their entry in the competition against Nigeria (6-1). In their second match, Marama Varihua, the only Tahitian professional and his teammates will face Spain on Thursday. The Polynesians' predictions do favor the Iberians. They are aware. Everything seems to indicate that Spain should make a short work of Tahiti.
Indeed, already overwhelmed with Nigeria, the Tahitians will suffer against the double European Champions and World defending Champions. We might witness an avalanche of goals and an attack-defense throughout the entire game.
But Nicolas Vallar, Captain of iron warriors rather intends to repeat the feat against Nigeria. Scoring a goal against Roja remains objective. The Toa Aito do not want joke with Spain. They expressed their desire to fight to the end.
"We know we're not going to surprise against the Roja but score a goal against the Super Eagles gave us wings," said Nicolas Vallar.
"What we want to retain and what we wish the world retains is that, it is our values, our fighting spirit, and our team spirit. There is nothing to lose. We play with our heart, "confided Mikael Roche after the match against Nigeria.
Asked about his future opponents, the Spanish winger Juan Mata has shown admiration for the determination of Polynesian players. "Tahiti deserves our respect, they have proven they want to play football against Nigeria. We are favorites, but the games are won on the ground, " said the midfielder of Chelsea at a press conference.
Spain will therefore not underestimate the nation that is currently pointing at the 138th FIFA rankings.