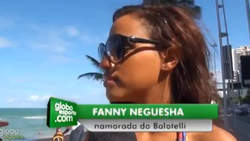 Brazil is on fire! Demonstrations multiply to denounce the exorbitant cost of the next world cup: 15 billion!
So, Fanny Neguesha took the opportunity to put a little more pressure!
Mario Balotelli bomb gave her first interview to the Brazilian channel "Globo" on the beach in Recife.
She even has a permanent bodyguard.
She has just given crispy small secrets about Mario Balotelli: "Mario cares too much when it comes to talk of family. I love Copacabana, Brazil … I get along very well with Mario Balotelli. Obviously, I prefer Italian to Brazilian men. Mario is very jealous. "
It does not stop him from scoring goals with Italy during the Confederations Cup!
[youtube]http://www.youtube.com/watch?feature=player_embedded&v=EBYsgYWdpaY[/youtube]