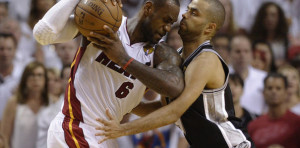 Ray Allen (9pts) entitles the Miami Heat to play the final NBA der.
With a five seconds award-winning shoot of the buzzer of the best three-point shooter in the league, following an offensive rebound of Chris Bosh (11rbds, 10pts), the NBA champion snatched the extension (95-95) and won 103 -100 against the Spurs.
Tony Parker (19 pts and 8 assists) and his teammates in San Antonio were not yet far from arresting the series to game six. In the Heat of the American Airlines Arena, Tim Duncan took his responsibilities with a double-double (30 pts and 17 rebounds), and San Antonio scored 10pts to lead in the fourth quarter.
But led by a huge James King, author of a triple-double (33pts, 10rbds and 11passes) Miami was able to stay in touch and made the final blow for the extension.
Everything will be decided on the night of Thursday to Friday in Game 7. Will the Los tres amigos of Florida get their second ring or will the big three Texan entrer in the history?
The war of the three will know at the end of this confrontation, the winner.