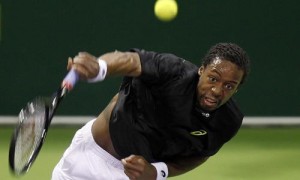 Gael Monfils is invited to the Montreal tournament which will be held from 2 to 11 August.
The organizers of the Canadian Masters 1000 granted a wild card to the French.
"I am delighted with the return Gael Monfils to Montreal, welcomed the tournament director Eugène Lapierre. He earned his place in the main draw as evidenced by his performance at Roland Garros (editor's note, the third elimination round). "
Current 62nd player men's tour, the Caribbean (former World No. 7) began a rise in the rankings since the World Games of Porte d'Auteuil and Eugène Lapierre does not doubt his next return to the top of the ATP "I am convinced that it is only a matter of time before he is back among the best players in the world. Gaël is certainly the most entertaining player of the circuit (see his 360 tournament in Halle) and Montreal fans have always loved him. "
The Monf will not improve his ranking on the grass of Wimbledon. For personal reasons he had to give up the third Grand Slam of the season. His last appearance at the Masters 1000 in Montreal goes back to 2011. He was beaten in the quarter finals by Novak Djokovic. The Serb world No. 1 is the defending champion of the tournament.