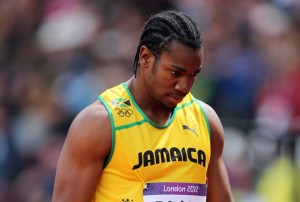 Yohan Blake will not line up in the 200m in Moscow during the next world athletics championship. The Jamaican world champion of the longest distance has not sufficiently recovered from his injury at his right thigh muscle during the meeting of Utech Classic (Kingston), on April 13.
As a result," the Beast" is not on the track on Thursday for the Jamaican selections according a statement released by his agent Cubie Seegobin .
"The coach of Yohan (editor's note, Glen Mills) is not satisfied with the recovery of his injury and his fitness level is not enough to take part in competitions".
According to the regulation in force in Jamaica, the selections are a must for any athlete who wants to be global. He should also be among the first three of his test to qualify. Exceptions to this rule, the world defending champions.
Also, if Blake cannot align on the half-lap, so he can compete in Moscow for the 100m if he recovers. For cause, the Olympic silver medalist (100 and 200 m) is the world defending champion on the right line and thus de facto qualified for the world championships.
World Games of Moscow will be held from 10 to 18 August 2013.