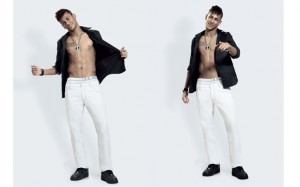 Virtuoso of football, Neymar is also a businessman. The new star of FC Barcelona has just launched his first fashion line in collaboration with Rock & Soda brand.
The collection comprised mainly jeans: "I love the patterns and colors, told the Brazilian attacker. This has been an incredible moment to participate in the creation and see the ending result, "says sportune.fr.
At first, it is 60 pieces of the first collection that are going to be commercialized. Called to gain weight for the Liga, surely he will record the release of a new collection if he wants to create a looker with his jeans. His fashion line is called NRJ, short for Junior Neymar.