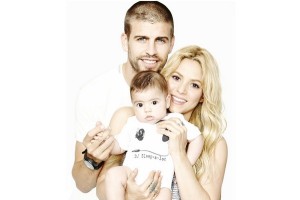 The American star Shakira celebrated Father's Day in a unique way with the father of her cute Milan.
The singer posted on his Facebook page a picture of a family in which one could see the player Gerard Pique (his husband), herself (Shakira) and Milan with small little phrase: "Happy Father's Day! We love you! Your family. "
Shakira seems to have an attachment to the family. She recently told having love for breastfeeding: "I love it! I cannot stop! I think I will continue to breastfeed my son until he go to college, I became addicted, "stated the star.