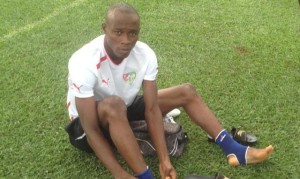 Holder against the Indomitable Lions of Cameroon in Yaounde during the third day of qualifying for the World Cup Brazil 2014, the Togolese Placca Fessou Meme is announced in Belgium.
But the top scorer last season in the National Football Championship with his club Agaza is still in Lome, "I'm still in Agaza. I will finish the season, I do not know yet. We pray that everything goes so that I can leave in the standards, we were told in the hotel on the eve of the match against Cameroon in the fourth round of qualifying in Lome "This is already a good thing that I am announced in Belgium. I know there are people waiting for me, who listen and know the work that I do and they want me to come and serve them. I continue to work hard for me not deceive them at the right time "
Repeatedly called in selection with Didier Six, Placca Fessou Meme has scored two consecutive doubles in the league this season.