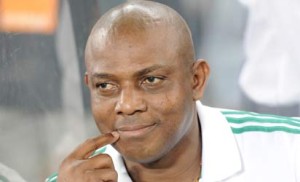 Disappointment for Nigeria, the reigning African champion. After its victory against Tahiti -6-1, review the video, it's back down to earth.
Nigeria was beaten yesterday in the Confederations Cup being played in Brazil by Uruguay.
In the group B, it will be very tight for the semifinals.
But Stephen Keshi, the Nigerian coach still believes. Here is his statement after the match: "We lacked concentration, which explains the second goal conceded and that is what makes the difference between the two teams. But it was a good match. We still have chances to qualify, until the last minute you never know what can happen, and anything can happen against Spain. I was not surprised by Uruguay, I had seen his last two matches, including against France. This is the same team that has been together for nearly six years. Ours is only a year and a half of living together.
Play here in Brazil is wonderful. The atmosphere is beautiful, it is a great experience. We hope that the experience gleaned in the field will allow us to come back here to the World. (among the few black coaches) I do not know why. When black players play so well in Europe, they may have a degree but cannot train there, and must return to Africa to train. I live in California, but I took the experience I have garnered in Europe for the benefit of Africa. We try to grow football in Nigeria, which depends too much on the outside, so I called a lot of players from the domestic league. "
Goals: Uruguay: Diego Lugano (19), Diego Forlan (51 ')
Nigeria: John Obi Mikel (37 ')
See the video of goals