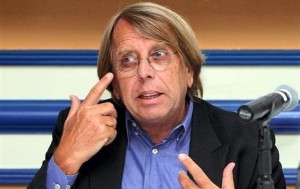 Claude Le Roy ends his function as coach of the national team of the DRC. The French coach whose contract was due to expire in September found a common ground with the Congolese Football Federation (Fecofa).
The two sides agreed to part amicably, said the sixth vice-president of the federation, and coordinator of national teams, Theobald Binamungu joined by Radio Okapi. Claude Le Roy has not managed to satisfy the main expectations of the Congolese, that of to qualify the Leopards for the 2014 World Cup.
"I told the players that I stopped after two years of presence. With the group, the Federation, we spent great time. I have not decided on the next continent where I was going to work, "said the technician of 65 years.
"The White Wizard" is a great expert of Africa. He settled on the continent since 1985, when he took the head of the Cameroonian national team. He won with this selection, the African Cup of Nations in 1998. Claude Le Roy has also led the team of Senegal (1989-1992) and Ghana (2006-2008).