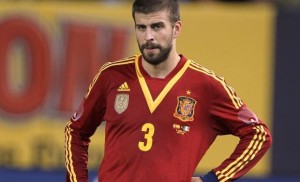 The Spanish victory (2-1) against Uruguay in the Confederations Cup will have a bitter taste for Gerard Piquet and five of his teammates.
The Spanish players were victims of theft in their hotel room. The site Croustifoot.fr, estimates the loot of the thieves to 1000 Euros. The companion of the American star Shakira, one of the first to notice the disappearance of a significant amount from her portfolio filed a complaint on Thursday before taking the flight to Rio.
According to the site purepeople.com, the hotel chosen by FIFA to accommodate the Spanish team was not of the taste of the players. The latter had already complained about the presence of numerous insects in the rooms.
Hope this bad news does not affect the moral of the Roja determined to win the 2013 edition of the Confederations Cup.