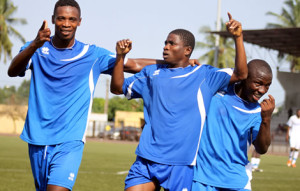 With 56 points obtained at the end of the 24th day of the championship, Séwé Sports is champion of Côte d'Ivoire.
The Club of San Pedro which needed a win to be safe beat Denguele Odiénné with a 1-0 score. This success allows the Séwé to win 7 points ahead of their pursuer ASEC totaling 46 points with two games left to play.
This is the second time that the Séwé Sport become champion of Côte d'Ivoire. So Séwé Sport will represent Côte d'Ivoire in the Champions League next season.
The results of the 24th day
Asec – AFAD-(1-0)
CO Korhogo – Africa (0-0)
EFYM – SOA (1-2)
ASI Abengourou – SC Gagnoa (1-1)
Stella – JCA-T (2-1)
ES Bingerville – USC Bassam (0-1)
As Denguélé – Séwé San Pedro (0-1)