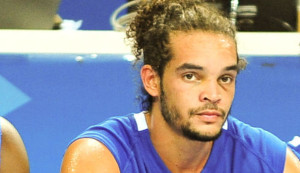 Vincent Colet published his pre-list for the Eurobasket 2013.
The coach of the Blues, accompanied by his staff, provided a list of 22 players with all frames except Joakim Noah. The All-Star pivot is trailing with an injury since the end of the regular season.
Sufficiently recovered from the injury at the arch of the right foot, the interior of the Bulls will miss the preparatory tournament "This is a package of injury. The DTN (Patrick Beesley) has met him a few days ago. For now he is still hurt, the European Championship is in September … There really was a lot of things done to heal him but he really has a problem, "lamented the coach. The Eurobasket will be held from 4 to 17 September in Lithuania.
After the Olympics Games, will Joakim Noah (28) miss another great appointment with the Blues? Elected in the major-5 of the NBA All-Defensive Team, Jooks proved during the playoffs that he could make violence. But will he still want to hang pains during games even at the risk of compromising the next season? He had already suggested that he will be with the selection if he recovers from his injury. The package of Noah will certainly be a blow to the Blues, even if the French staff has Alexis Ajinça and Ronny Turiaf in its group.
The list of the players selected for the preparation of the Euro 2013
List of 17 players: Antoine Diot, Heurtel Thomas, Tony Parker, Leo Westermann, Yannick Bokolo, Nando De Colo, Evan Fournier, Edwin Jackson, Nicolas Batum, Mickael Gelabale, Charles Kahudi, Boris Diaw, Florent Pietrus, Joffrey Lauvergne Kim Tillie Alexis Ajinça, Ronny Turiaf.
Substitutes: Andrew Albicy, Livio Jean Charles, Jeremy Leloup, Adrien Moerman, Rudy Gobert