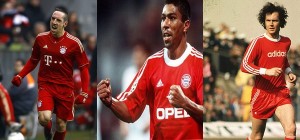 Created in 1963, the German championship celebrates its 50th anniversary this summer. To this end, the Bild newspaper published Monday the dream team of Bundelisga for its past 50 years.
Only three players are still active in this" dream" Eleven elected by the readers of the newspaper. It is the Germans Bastian, Schweinsteiger and Philipp Lahm and Franck Ribery the French.
Voted best player of the championship this season, Ribery (30) makes his classes in the German championship since 2007 from OM. In addition to these three players, Bayern Munich adds seven other players to this" dream" Eleven of the 50 years of the Bundesliga. Günter Netzer (ex-Dortmund) and Uwe Seeler (ex-Hamburg), complete the team.
Another highlight of this vote, Franck Ribery and the Brazilian Giovane Elber are the only foreigners in this dream team, led by Omar Hitzfeld.
Complete list of the "dream Eleven"
Kahn, Beckenbauer, Breitner, Lahm, Netzer, Schweinsteiger, Matthäus, Ribery, Gerd Müller, Seeler, Elber
Coach: Ottmar Hitzfeld