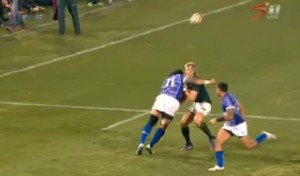 The Springboks of South Africa have a again shone on Saturday in Pretoria during the test match against Samoa. Bryan Habana and his teammates thrashed Samoa 56-23.
But during the meeting very struck, neo-Toulon, author of two trials had a wind-heat in the back, in the 55th minute, with a plating of Alesana Tuilagi. The South African winger was not the only one to be the victim of the commitment to limit of the extreme winger, Manu Samoa. Tuilagi also nearly decapitated the Springbok captain Jean de Villiers with a whip, two minutes later. He was logically ejected from the game.
The video of these actions to avoid with rugbynistère.