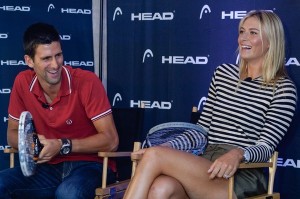 The World No. 1 of tennis, Novak Djokovic has humor to share. The Serb served on Thursday the spectators in the Boodles exhibition tournament in London. Towards the end of the match against the youngster Grigor Dimitrov, Djokovic was inspired to imitate a tennis player but not least, Maria Sharapova.
The Serb has accentuated all the features of the lovely Russian. How she concentrates and the famous cries she pushes hitting the ball, Novak Djokovic has all caricatured. The Serbian was joined by Dimitrov, the boyfriend of Maria Sharapova. The latter performed the way his wife sits after games.
The tennis professionals have time to have funs a few days to the prestigious Wimbledon tournament.
[youtube]http://www.youtube.com/watch?feature=player_embedded&v=MxU3YXGJwKA[/youtube]