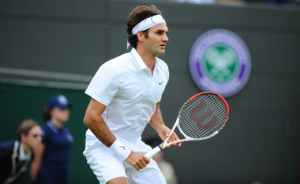 After his first trophy of the season in Halle, the king of grass played his opening match at the Grand Slam in London on Monday. Seven-time Wimbledon champion, Roger Federer made a quiet entry into the London grass.
The Swiss world No. 3, dominated by 1:09, Romanian Victor Hanescu in straight sets 6/3, 6/2, 6/0, on the Central "(The opening of the Central) It's always a match beautiful to play, he-told after the match. I always won those games there; it helps to enjoy them too. I played very well; I have not had a problem with the service. I have returned, sometimes aggressive, sometimes + chip + as I often do on grass. I moved well, even though it was a bit slippery as usual on the first day. I broke of input in three sets. It's always easier to play in those conditions. There was a little wind and it was cold. I'm glad I finished quickly. It was a perfect day, "says tennistemple.
Defending champion, Federer will cross the racket against the Ukrainian Sergiy Stakhovsky in the second round.