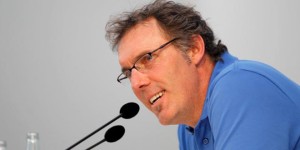 As announced since several days, Laurent Blanc will be PSG coach this season. The former coach of the France team has been officially confirmed as coach of Paris Saint-Germain on Tuesday. Blanc is committed with the capital club for the next two seasons (one year + one year option).
"The mission assigned by leaders of Paris Saint-Germain to Laurent Blanc is to continue the path initiated last year and lead the team to European summits," announced the club in a statement. The announcement was made simultaneously with that of the appointment of Ancelotti at the head of Real Madrid.
Arrived in the capital in Monday night, the former coach of the France team will be presented shortly before meeting the group on July 1st at Clairefontaine for the resumption of the training.