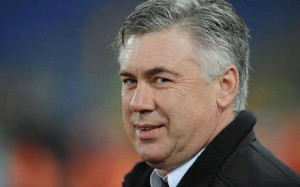 As reported by Africa Top.sports.com Carlo Ancelotti is the new coach of Real Madrid. So he succeeded José Mourinho who left for Chelsea. The former PSG coach was officially replaced for two seasons by Laurent Blanc who signed for the next three seasons.
He will be presented Wednesday at 1.p.m at the Santiago Bernabeu stadium. In the process, he will hold his first press conference.
This morning, Florentino Perez, president of Real Madrid, confirmed that Ancelotti would be the next coach of the club. "My coach is Ancelotti. It just depends on when PSG finds an agreement with Ancelotti and announces its new coach, Blanc. We should take the time to do things in order. "
Ancelotti arrived in January 2012 in PSG that he led to the title of champion of France, the first for the club since 1994.
He won the Champions League twice as a player (1989 and 1990 with AC Milan) and as a coach (2003 and 2007 with AC Milan).
His goal is to win with Real next Champions League. Real awaits him since 2002 – victory over Leverkusen (2-1). –
Zinedine Zidane and Hernan Crespo should be his assistants.
To be continued …