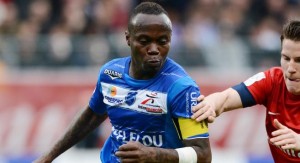 Subject of interest for the club of the Championship Nottingham Forest, Eloge Enza-Yamissi could finally stay in France.
The Troyes Captain (relegated to League 2) would be tracked by Valenciennes.
To believe La Voix du Nord, the VA would have launched into negotiations with ESTAC to enlist the services of the midfielder. The Central African International is bound to Troyes until June 2015.