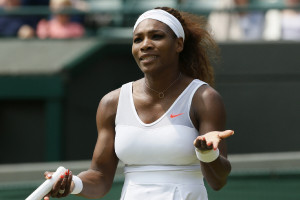 It is the feeling of the second week of Wimbledon. Hitherto intractable on the London grass, Serena Williams stops at the doors of the quarterfinals of the English Grand Slam. The World No. 1 was beaten by the German Sabine Lisicki, seeded No. 23, in three sets, 6/2, 6/1, 6/4.
Too inconsistent during the game, like the first set (12 direct fault), the American, defending champion, stopped in the eighth final.
Sabine Lisicki ended the series of the unbeaten Serena who remained on 34 consecutive games without defeat. This is only the third defeat of the season on 44 games of the younger of the Williams sisters.
The third Grand Slam of the season is continuing its share of surprises.
In the quarterfinals, Lisicki will face Kaia Kanepi femme fatale of Laura Robson 7/6 [8-6], 7/5.