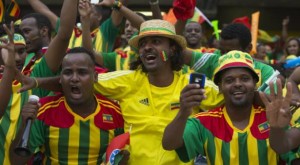 Charged with Togo to have used an ineligible player in the 2014 World Cup playoffs last month against Botswana, Ethiopia is now fixed on its sanctions. As expected, therefore Walya Antelopes lose three points for the benefit of Zebras, whereas they won the game. Leaders have since acknowledged their wrong.
Besides the sporting sanction, Ethiopia bails out 6,000 Swiss francs. With this decision, it is South Africa who is smiling again in Group 1 of the African zone playoffs. Bafana Bafana, though second in the standings, are two points backing to Ethiopian leader (10 points). Botswana benefiting from the 3 points, counts 7 points and is ranked third. The last day of these qualifications will be decisive.
In addition to Ethiopia who used Minyahile Teshome Beyene yet suspended Togo is also under investigation for using Alaixys Romao against Cameroon and will be punished.