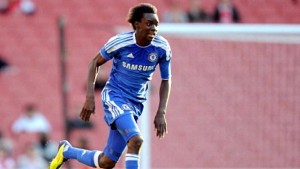 While he will have 18 years in September, Bertrand Traore, the brother of Alain (Lorient) will soon sign his first professional contract. He will be with Chelsea, where he completed his 3 years training.
Very young, Traore is highly regarded at the training center of the Blues. "He's big, strong and fast, he has a range of actions to eliminate his opponent and ends his actions with silence and elegance. (…) When he is eligible, he will become a regular feature on the bench and knock on the door of the first team, where he often gets trained, "says TheChels.net site.
A talent which has also early opened the doors to the national team. At 16 years and four months, he was the youngest player at Afcon 2012 with the Stallions of Burkina Faso. African champion junior in 2011, he could not make the tournament this year but was preselected. Since then, he returned as participant at the last meeting of the band of Paul Put in Congo (1-0).
With this pro contract, we can very soon see the midfielder on the lawns of Premier League and Europe.