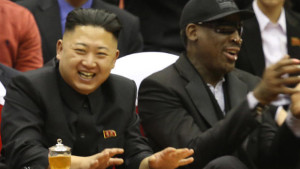 This may seem foolish, but Dennis Rodman, who made the cover of Sport Illustrated, did not seem to be joking. The former teammate of Michael Jordan with the Chicago Bulls, who was erected in diplomat think he should be on the podium for the next Nobel Prize for Peace.
Even if he has received the support of the USA in this sense, the member of the Hall of Fame in the NBA is getting involved to bring North Korea to his "friend for life," he declared, Kim Jong-un and the West (including the USA.). "My mission is to break the ice between countries that do not like one another," he explained in the pages of Sports Illustrated magazine. "Why is it that this role fell on me, I do not know, he says. It happened to Dennis Rodman. To protect us, it is not really my job, but rather the job of the other black guy [Barack Obama]. But I tell you one thing: if I'm not on the podium for the next Nobel Prize for Peace it means that there is a big problem. "
After an initial meeting with the North Korean president during a basketball game in February, "Rodzilla" must return in August in North Korea and try to plead for the release of Kenneth Bae sentenced to 15 years in prison. "I'll just stay quiet, play some basketball and maybe go on a vacation with Kim and his family. I asked the Supreme Leader to make a great favor by releasing Kenneth Bae. "Remains to know whether the bond of friendship may be flex the" Supreme Leader ".